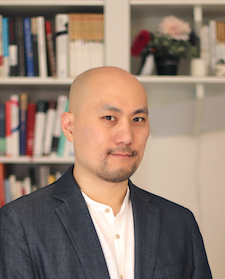 Changhyun Kwon is an associate professor in Industrial and Management Systems Engineering at the University of South Florida. His research interests include transportation systems analysis and service operations problems. His research has been supported by various organizations, including the National Science Foundation, the U.S. Department of Transportation, and the Canadian Embassy. He received a Ph.D. in Industrial Engineering in 2008 and an M.S. in Industrial Engineering and Operations Research in 2005, both from the Pennsylvania State University. H e also received a B.S. in Mechanical Engineering from KAIST in 2000. He received the NSF CAREER award in 2014. Before he joined the University of South Florida, he was at the University at Buffalo, where he received the UB Exceptional Scholar: Young Investigator Award in 2015. He is an active member of INFORMS and TRB. Changhyun Kwon is leading the STOM Group, a research group focusing on service and transportation operations management, and many other applied operations research problems. See the Research page.


Julia Programming for Operations Research 2/e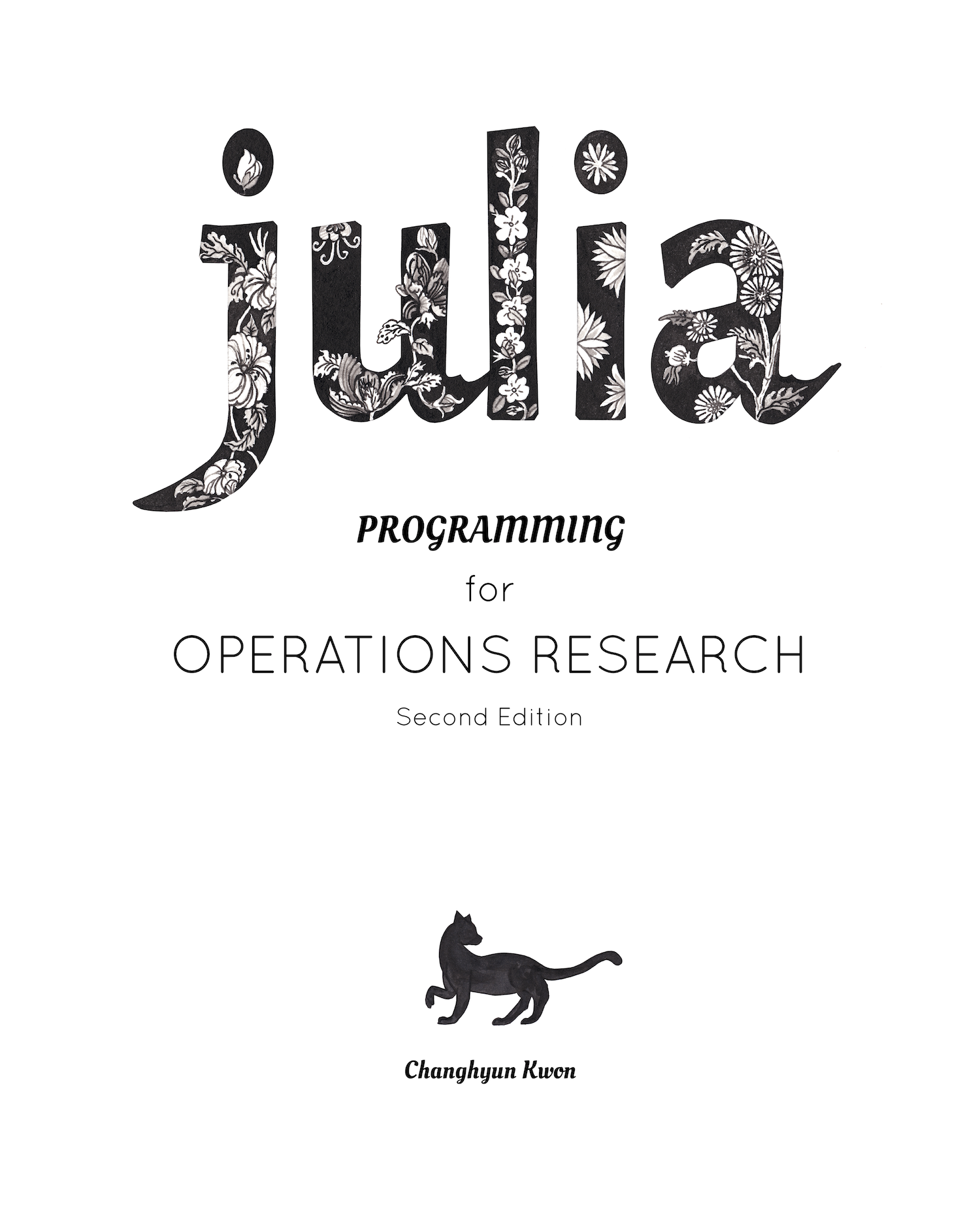 Julia is a computer programming language for scientific computing. This book will teach you how to do computing tasks in operations research and management science using the Julia Language. [Check here](/julia).








Selected Publication
Publications
Articles under Review
Journal Articles (Published or To Appear)
Liu, X., S. W. Kim, C. Kwon. (2023) An Adaptive Large Neighborhood Search Method for Rebalancing Free-Floating Electric Vehicle Sharing Systems.

Computers & Operations Research

, 155, 106220. pdf doi abstract
Bogyrbayeva, A., T. Yoon, H. Ko, S. Lim, H. Yun, C. Kwon. (2023) A Deep Reinforcement Learning Approach for Solving the Traveling Salesman Problem with Drone.

Transportation

Research Part C: Emerging Technologies

, 148, 103981 arXiv doi github abstract
Haider, Z., Y. Hu, H. Charkhgard, D. Himmelgreen, C. Kwon. (2022) Creating Grocery Delivery Hubs for Food Deserts at Local Convenience Stores via Spatial and Temporal Consolidation.

Socio-Economic

Planning Sciences

, 82(B), 101301. doi pdf abstract
Bogyrbayeva A., S. Jang, A. Shah, Y. J. Jang, C. Kwon. (2022) A Reinforcement Learning Approach for Rebalancing Electric Vehicle Sharing Systems.

IEEE Transactions on Intelligent

Transportation Systems

, 23(7), 8704–8714. doi arXiv pdf github abstract
A. Bogyrbayeva, C. Kwon. (2021) Pessimistic Evasive Flow Capturing Problems.

European Journal of Operational Research

, 293(1), 133-148. doi pdf abstract
Bogyrbayeva A., M. Takalloo, H. Charkhgard, C. Kwon. (2021) An Iterative Combinatorial Auction Design for Fractional Ownership of Autonomous Vehicles.

International Transactions

in Operational Research

, 28(4), 1681–1705. doi pdf abstract
Takalloo, M., A. Bogyrbayeva, H. Charkhgard, C. Kwon (2021). Solving the Winner Determination Problem in Combinatorial Auctions for Fractional Ownership of Autonomous Vehicles.

International Transactions

in Operational Research

, 28(4), 1658–1680. doi pdf abstract
Takalloo, M., C. Kwon (2020). On the Price of Satisficing in Network User Equilibria.

Transportation Science

, 54(6), 1555–1570. doi arXiv pdf abstract
Melendez, K.A., T.K. Das, C. Kwon (2020). A Nash-bargaining Model for Trading of Electricity Between Aggregations of Peers.

International Journal of Electrical

Power and Energy Systems

, 123, 106185. doi pdf abstract
Melendez, K.A., T.K. Das, C. Kwon (2020). Optimal operation of a system of charging hubs and a fleet of shared autonomous electric vehicles.

Applied Energy

, 279, 115861. doi pdf abstract
Su. L., C. Kwon. (2020) Risk-Averse Network Design with Behavioral Conditional Value-at-Risk for Hazardous Materials Transportation.

Transportation Science

, 54(1), 184–203. doi pdf abstract
Zhang, A., J.E. Kang, C. Kwon (2020). Generalized Stable User Matching for Autonomous Vehicle Co-ownership Programs.

Service Science

, 12(2–3), 61–79. doi pdf abstract
Zhang, A., J. E. Kang, C. Kwon (2020). Multi-day Scenario Analysis for Battery Electric Vehicle Feasibility Assessment and Charging Infrastructure Planning.

Transportation Research Part C: Emerging Technologies

, 111, 439–457. doi pdf abstract
Taslimi, M., R. Batta, C. Kwon (2020). Medical Waste Collection Considering Transportation and Storage Risk.

Computers & Operations Research

, 120, 104966. doi pdf abstract
Takalloo, M., C. Kwon (2020). Sensitivity of Wardrop Equilibria: Revisited.

Optimization Letters

, 14, 781–796. doi arXiv pdf abstract
Liu, X., C. Kwon. (2020) Exact Robust Solutions for the Combined Facility Location and Network Design Problem in Hazardous Materials Transportation.

IISE Transactions

, 52(10), 1156–1172.

(Runner-up, Student Paper Competition of

the INFORMS Section on Location Analysis (SOLA), 2019)

doi pdf abstract
Eaton, M., S. Yurek, Z. Haider, M. Julien, F. Johnson, B. Udell, H. Charkhgard, C. Kwon. (2019) Spatial Conservation Planning under Uncertainty: Adapting to Climate Change Risks using Modern Portfolio Theory.

Ecological Applications

, 29(7):e01962. doi abstract
Subramanian, V. T. K. Das, C. Kwon, A. Gosavi (2019). A Data-Driven Methodology for Dynamic Pricing and Demand Response in Electric Power Networks.

Electric Power Systems Research

, 174, 105869. doi pdf abstract
Melendez, K. A. , V. Subramanian, T. K. Das, C. Kwon (2019). Empowering end-use consumers of electricity to aggregate for demand-side participation.

Applied Energy

, 248, 372–382. doi abstract
Sun, L., M. Karwan, C. Kwon (2019). Path-Based Approaches to Robust Network Design Problems Considering Boundedly Rational Network Users.

Transportation Research Record

, 2673(3), 637–645. doi pdf abstract
Su, L., L. Sun, M. Karwan, C. Kwon (2019). Spectral Risk Measure Minimization in Hazardous Materials Transportation.

IISE Transactions

, 59(6), 638–652.

(Featured in

IISE

Magazine

)

doi pdf abstract
Saghand, P.G., H. Charkhgard, C. Kwon (2019). A Branch-and-Bound Algorithm for a Class of Mixed Integer Linear Maximum Multiplicative Programs: A Multi-objective Optimization Approach.

Computers & Operations Research

, 101, 263–274. doi pdf abstract
Haider, Z., A. Nikolaev, J. E. Kang, C. Kwon (2018). Inventory Rebalancing through Pricing in Public Bike Sharing Systems.

European Journal of Operational Research

, 270(1), 103–117. doi pdf abstract
Zhang, A., J. E. Kang, K. Axhausen, C. Kwon (2018). Multi-day Activity-Travel Pattern Sampling Based on Single-Day Data.

Transportation Research Part

C: Emerging Technologies

, 89, 96–112. doi pdf abstract
Haider, Z., H. Charkhgard, C. Kwon (2018). A Robust Optimization Approach for Solving Problems in Conservation Planning.

Ecological Modelling

, 368, 288–297. doi pdf abstract
Chung, B.D., S. Park, C. Kwon (2018). Equitable Distribution of Recharging Stations for Electric Vehicles.

Socio-Economic Planning Science

, 63, 1–11. doi pdf abstract
Sun, L., M. Karwan, C. Kwon (2018). Generalized Bounded Rationality and Robust Multicommodity Network Design.

Operations Research

, 66(1), 42–57.

(Outstanding Paper Award in

Urban Transportation Planning and Modeling, the INFORMS Transportation Science & Logistics (TSL) Society,

2019)

doi pdf abstract
Esfandeh, T., R. Batta, and C. Kwon (2018). Time-Dependent Hazardous-materials Network Design Problem.

Transportation Science

, 52(2), 454–473. doi pdf github abstract
Toumazis, I., M. Kurt, A. Toumazi, L. Karakosta, C. Kwon (2017). Comparative Effectiveness of Up-to-Three Lines of Chemotherapy Treatment Plans for Metastatic Colorectal Cancer.

Medical Decision Making

doi pdf abstract
Zhang, A., J.E. Kang, C. Kwon (2017). Incorporating Demand Dynamics in Multi-Period Capacitated Fast-charging Location Planning for Electric Vehicles.

Transportation Research Part B: Methodological

, 103, 5–29. doi pdf github abstract
Ahmed, M.T., J. Zhuang and C. Kwon (2017). Understanding Conflicting Interests of a Government and a Tobacco Manufacturer: A Game-Theoretic Approach.

Group Decision and Negotiation

, 26(6), 1209–1230. doi pdf abstract
Taslimi, M., R. Batta, C. Kwon (2017). A Comprehensive Modeling Framework for Hazmat Network Design, Hazmat Response Team Location, and Equity of Risk.

Computers & Operations Research

, 79, 119–130. doi pdf abstract
Li, X., R. Batta, C. Kwon (2017). Effective and Equitable Supply of Gasoline to Impacted Areas in the Aftermath of a Natural Disaster.

Socio-Economic Planning Sciences

, 57, 25–34. doi pdf abstract
Chung, S. H. and C. Kwon (2016). Integrated Supply Chain Management for Perishable Products: Dynamics and Oligopolistic Competition Perspectives with Application to Pharmaceuticals.

International Journal of Production Economics

, 179, 117–129. doi pdf abstract
Sun, L., M. Karwan, and C. Kwon (2016). Robust Hazmat Network Design Problems Considering Risk Uncertainty.

Transportation Science

, 50(4), 1188–1203. doi pdf abstract
Toumazis, I. and C. Kwon (2016). Worst-case Conditional Value-at-Risk Minimization for Hazardous Materials Transportation.

Transportation Science

, 50(4), 1174–1187. doi pdf github abstract
Kumar, A. A., J. E. Kang, C. Kwon, and A. Nikolaev (2016). Inferring Origin-Destination Pairs and Utility-Based Travel Preferences for Shared Mobility Systems Users in a Multi-Modal Environment.

Transportation Research

Part B: Methodological

, 91, 270–291. doi pdf abstract
Sun, L., M. H. Karwan, C. Kwon (2016). Implications of Cost Equity Consideration in Hazmat Network Design.

Transportation Research Record

, 2567(1), 67–77. doi pdf abstract
Esfandeh, T., C. Kwon, R. Batta (2016). Regulating Hazardous Materials Transportation by Dual Toll Pricing.

Transportation Research Part B: Methodological

, 83, 20–35. doi pdf abstract
Sun, L., M. Karwan, and C. Kwon (2016). Incorporating Driver Behaviors in Network Design Problems: Challenges and Opportunities.

Transport Reviews

, 36(4), 454–478. doi pdf abstract
Hwang, H., J. Park, S. H. Chang, N. Attard, S. Wells, C. Kwon, K. Friedman (2015). The Ties that Bind: Economic and Freight Transportation Implications of U.S.-Canada Border Bridges Using a Bi-national Transportation Network-Combined Economic Model.

Research in

Transportation Business & Management

, 16, 32–49. doi pdf abstract
Hariharan, V.G., D. Talukdar, and C. Kwon (2015). Optimal Targeting of Advertisement for New Products with Multiple Consumer Segments.

International Journal of

Research in Marketing

, 32(3), 263–271. doi pdf ssrn abstract
Chung, S. H. and C. Kwon (2015). Multi-Period Planning for Electric-Car Charging Station Locations: a Case of Korean Expressways.

European Journal of Operational Research

. 242(2), 677–687. doi pdf github abstract
Lee, T. and C. Kwon (2014). A Short Note on the Robust Combinatorial Optimization Problems with Cardinality Constrained Uncertainty.

4OR

, 12(4), 373–378. doi pdf github abstract
Park, J., C. Kwon, and M. Son (2014). Economic Implications of the Canada-U.S. Border Bridges: Applying a Binational Economic Model for Canada and the U.S..

Research in Transportation Business and Management

, 11, 123–133. doi pdf abstract
Kang, Y., R. Batta and C. Kwon (2014). Value-at-Risk Model for Hazardous Material Transportation.

Annals of Operations Research

, 222(1), 361–387. doi pdf github abstract
Berglund, P. G. and C. Kwon (2014). Solving a Location Problem of a Stackelberg Firm Competing with Cournot-Nash Firms.

Networks and Spatial Economics

, 14(1), 117–132. doi pdf abstract
Kang, Y., R. Batta and C. Kwon (2014). Generalized Route Planning Model for Hazardous Material Transportation with VaR and Equity Considerations.

Computers & Operations Research

, 43, 237–247. doi pdf github abstract
Berglund, P. G. and C. Kwon (2014). Robust Facility Location Problem for Hazardous Waste Transportation.

Networks and Spatial Economics

, 14(1), 91–116. doi pdf abstract
Ahmed, M. T. and C. Kwon (2014). Optimal Contract-Sizing in Online Display Advertising for Publishers with Regret Considerations.

Omega

, 42(1), 201–212. doi pdf abstract
Toumazis, I. and C. Kwon (2013). Routing Hazardous Materials on Time-Dependent Networks using Conditional Value-at-Risk.

Transportation Research Part C: Emerging Technologies

, 37, 73–92. doi pdf github abstract
Kwon, C., T. Lee, P. G. Berglund (2013). Robust Shortest Path Problems with Two Uncertain Multiplicative Cost Coefficients.

Naval Research Logistics

, 60(5), 375–394. doi pdf github abstract
Ahmed, M.T. , and C. Kwon (2012). Pricing Game of Online Display Advertisement Publishers.

European Journal of Operational Research

, 219, 477-487. doi pdf abstract
Srinivasan, A. and C. Kwon (2012). Operations of Online Advertising Services and Publisher's Option.

Journal of the Operational Research Society

, 63, 674–682. doi pdf abstract
Chung, B.D., J. Li, T. Yao, C. Kwon and T. L. Friesz (2012). Demand Learning and Dynamic Pricing under Competition in a State-Space Framework.

IEEE Transactions on

Engineering Management

, 59(2), 240–249. doi pdf abstract
Wang, J., Y. Kang, C. Kwon and R. Batta (2012). Dual Toll Pricing for Hazardous Material Transport with Linear Delay.

Networks and Spatial Economics

, 12, 147–165. doi pdf abstract
Jung, T. and C. Kwon (2011). Retailer-Supplier Matching: an Application of the Deferred Acceptance Algorithm.

International Journal of Services Operations and Informatics

, 6(3), 248–258. doi pdf abstract
Friesz, T. L., T. I. Kim, C. Kwon and M. A. Rigdon (2011). Approximate Network Loading and Dual Time Scale Dynamic User Equilibrium.

Transportation Research

Part B: Methodological

, 45(1), 176-207. doi pdf abstract
Moon. Y. and C. Kwon (2011). Online Advertisement Service Pricing and an Option.

Electronic Commerce Research and Applications

, 10(1), 38-48. doi pdf abstract
Kwon, C. (2011). Single-Period Balancing of Pay-Per-Click and Pay-Per-View Online Display Advertisements.

Journal of Revenue and Pricing Management

, 10(3), 261-270. doi pdf abstract
Kwon, C., T. L. Friesz, R. Mookherjee, T. Yao and B. Feng (2009). Non-cooperative Competition Among Revenue Maximizing Service Providers with Demand Learning.

European Journal of

Operational Research

, 197(3), 981-996. doi pdf abstract
Kwon, C. and T. L. Friesz (2008). Valuation of American Options by the Gradient Projection Method.

Applied Mathematics and Computation

, 206(1), 380-388. doi pdf abstract
Friesz, T. L. and C. Kwon (2008). Supply Chain Design in Perfect Competition.

International Journal of Services Operations and Informatics

, 3(3/4), 340-356. doi pdf abstract
Miller, T. C., T. L. Friesz, R. L. Tobin and C. Kwon (2007). Reaction Function Based Dynamic Location Modeling in Stackelberg-Nash-Cournot Competition.

Networks and Spatial Economics

, 7(1), 77-97. doi pdf abstract
Edited Book
Batta, R. and C. Kwon (2013),

Handbook of OR/MS Models in Hazardous Materials

Transportation

, International Series in Operations Research & Management Science, Vol. 193, Springer doi
Book
C. Kwon (2016),

Julia Programming for Operations Research: A Primer on

Computing

, 7.5" x 9.25". 246 pages. ISBN-10: 153332879X, ISBN-13: 978-1533328793. url
Papers in Refereed Proceedings
Park, J. C.Kwon, J. Park. (2023) Learn to solve the min-max multiple traveling salesmen problem with reinforcement learning.

The 22nd International Conference on Autonomous

Agents and Multiagent Systems

, 9 pages. pdf abstract
Kim, H., M. Kim, C. Kwon, J. Park. (2022) Neural Coarsening Process for Multi-level Graph Combinatorial Optimization.

NeurIPS 2022 GLFrontiers Workshop

, 16 pages. pdf abstract
C. Kwon. (2011) Conditional Value-at-Risk Model for Hazardous Materials Transportation, in

Proceedings of the 2011 Winter Simulation Conference

, S. Jain, R. R. Creasey, J. Himmelspach, K. P. White, and M. Fu, eds. pp. 1708-1714 doi abstract
Jeong, B., C. Kwon, Y.S. Zhang, and S. Yang. (2010) Evaluating the Research Performance of a R\&D Program: an Application of DEA.

Proceedings of the International

Multi-Conference of Engineers and Computer Scientists 2010 Vol III

, 5 pages. pdf
Friesz, T. L., M. A. Rigdon and C. Kwon. (2008) A New Gradient Projection Algorithm for the Dynamic User Equilibrium Problem.

International Symposium on Dynamic Traffic

Assignment 2008

, 9 pages.
Friesz, T. L., C. Kwon and M. A. Rigdon. (2007) A Model of Competition in Service Management.

Proceedings of 2007 IEEE/INFORMS

International Conference on Service Operations and Logistics, and Informatics

, 6 pages. doi
Friesz, T. L., C. Kwon and R. Mookherjee. (2007) A Computable Theory of Dynamic Congestion Pricing. In:

Transportation and Traffic Theory 2007:

Papers selected for presentation at ISTTT17, a peer reviewed series since 1959

, R. E. Allsop, M. G. H. Bell and B. G. Heydecker (Eds.), pp. 1-26. pdf abstract
Friesz, T. L., C. Kwon, A. Chow and B. Heydecker. (2007) A Dynamic Efficient Toll Problem.

The Sixth Triennial Symposium on

Transportation Analysis (TRISTAN VI)

, 4 pages pdf
Friesz, T. L., R. Mookherjee and C. Kwon. (2006) Dynamic Non-cooperative Games as a Foundation for Modeling Dynamic User Equilibrium.

The First International Symposium on

Dynamic Traffic Assignment

, 18 pages. pdf
Friesz, T. L., C. Kwon and R. Mookherjee. (2006) A Computable Theory of Dynamic Congestion Pricing

The First International Symposium on

Dynamic Traffic Assignment

, 15 pages. pdf
Book Chapters
Grants
(PI) "Collaborative Research: Arc Routing Problems in Combined Drone/Truck Fleets," National Science Foundation (NSF), 7/1/2021–6/30/2024, [CMMI-2032458]
(PI) "The 17th INFORMS Computing Society Conference 2022," USF Research & Innovation Conference Support Grant, , co-PI: Hadi Charkhgard (USF), Tapas Das (USF), 1/23/2022—1/25/2022
(co-PI) "Hybrid Neural Combinatorial Optimization Methods for Smart Factory Material Handling," National Research Foundation (NRF) of Korea, PI: Young Jae Jang (KAIST), 7/1/2021–6/30/2022 (This project supports my research during sabbatical at KAIST.)
(PI) "Cobblestone OR1: Improving Milk Distribution Planning," Cobblestone Milk Cooperative, Inc., 6/1/2021–8/9/2021
(PI) "Converting Convenience Stores from Sources of Unhealthy Foods to Hubs of Healthy Food Deliveries," Creative Research Grant, USF Research & Innovation, 5/1/2020–4/30/2021
(PI) "Measuring the Impact of the Large-scale Adoption of Ridesharing on the Spread of Infectious Diseases," U.S. Department of Transportation (US DOT) through Center for Transportation, Environment, and Community Health (CTECH), , co-PIs: Tapas Das (USF), Miguel Reina (USF), 10/1/2019–9/30/2020
(PI) "Market Design Approaches for Fashion Goods Distribution," 2019 USF Nexus Initiative Awards: Faculty Global/National Collaborations, 5/28/2019–12/31/2021
(PI) "Efficient Operations of Free-Floating Electric-Car Sharing Systems Considering Energy-Aware Customers," INFORMS TSL Cross-regional Collaborative Grant, , co-PI: Sang Won Kim (CUHK), 2019
(PI) "Creating and Designing New Markets for Fractional Ownership of Autonomous Vehicles", Proposal Enhancement Grant, USF Research & Innovation, co-PI: Hadi Charkhgard (USF), 5/1/2018–4/30/2019.
(co-PI) "Applying Location-based Informatics, Simulation, and Optimization Methods to Forklift Driver Behavior, Congestion, and Wireless Charging Studies", Toyota Material Handing North America, PI: Sang Won Yoon (Binghamton), co-PI: Sung Hoon Chung (Binghamton), 12/1/2016–11/30/2017.
(PI) "Regulating Hazardous-materials Transportation with Behavioral Modeling of Drivers," U.S. Department of Transportation (US DOT) through Center for Transportation, Environment, and Community Health (CTECH), , 11/30/2016–11/29/2017
(co-PI) "Market Potential for Battery Electric Vehicles based on Multi-Day Activity-Travel Patterns", U.S. Department of Transportation (US DOT) through University Transportation Research Center (UTRC), PI: Jee Eun Kang (SUNY Buffalo), co-PI: Joan Lucas (Brockport), 5/1/2015–7/31/2016
(PI) "CAREER: Advancing Routing Methods in Hazardous Materials Transportation", National Science Foundation (NSF), 08/01/2014–07/31/2019, [CMMI-1351357]
(co-PI) "Effective and Equitable Supply of Gasoline to Impacted Areas in the Aftermath of a Natural Disaster", U.S. Department of Transportation (US DOT) through University Transportation Research Center (UTRC), PI: Rajan Batta (SUNY Buffalo), 03/01/2014–05/31/2015
(co-PI) "The Ties that Bind: Developing a Bi-national Transportation-Combined Economic Simulation Model to Assess Security and Policy Implications of US-Canada Border Bridges", U.S. Department of Transportation (US DOT) through University Transportation Research Center (UTRC), PI: Jiyoung Park (SUNY Buffalo), co-PI: Kathryn Friedman (SUNY Buffalo), 02/01/2014–08/31/2015
(PI) SUNY Innovative Instruction Technology Grant, "Developing an Interactive Web-Application for Instructions Involving Networks", co-PI: Ann Bisantz (SUNY Buffalo), 06/01/2013–06/30/2014 [SUNY IITG 2013]
(PI) Research and Innovative Technology Administration (RITA) / U.S. Department of Transportation (US DOT) through University Transportation Research Center (UTRC), Emerging Investigators Program, "Real-time Dynamic Pricing for Bicycle Sharing Programs", 10/01/2012–08/31/2014 [RITA 49997-34-24]
(PI) Research and Innovative Technology Administration (RITA) / U.S. Department of Transportation (US DOT) through University Transportation Research Center (UTRC), "Towards Socially and Economically Sustainable Urban Developments", co-Is: Jiyoung Park (SUNY Buffalo), Qian Wang (SUNY Buffalo), 12/23/2011–09/30/2012 [RITA 49111-23-23]
(PI) Goodwill Industries of WNY, Inc. through the Center for Industrial Effectiveness, "Processing Area Improvement Initiative", 11/30/2011–5/30/2012
(PI) "Collaborative Research: Regulating Hazardous Materials Transportation by Multi-Objective Dual Toll Pricing", National Science Foundation (NSF), co-PIs: Rajan Batta (SUNY Buffalo), 09/01/2011–08/31/2014 [CMMI-1068585]
(PI) Research and Innovative Technology Administration (RITA) / U.S. Department of Transportation (US DOT) through University Transportation Research Center (UTRC), Faculty Development Minigrants, "Robust Routing for Hazardous Materials Transportation with Conditional Value-at-Risk on Time-Dependent Networks", 07/01/2011–09/30/2012 [RITA 49111-07-23]
(PI) Efficient Schools Team, LLC., Buffalo, NY, through The Center for Industrial Effectiveness, "Food Service Efficiency & Capacity Analysis Study/Assessment", 03/30/2011–09/30/2011
(PI) Embassy of Canada in Washington, D.C., "Economic Implications of the Canada-US Border Bridges: Applying a Transportation-Combined Multiregional Input-Output Model for Canada and the U.S.", co-PI: Jiyoung Park (SUNY Buffalo), 03/01/2011–02/28/2012 [link]
(co-PI) The Canadian-American Studies Committee, Fall 2010 Grant Competition, , PI: Jiyoung Park (SUNY Buffalo), 2010
Contact
Office:  ENC 2506
Mailing Address:



Changhyun Kwon
University of South Florida
Dept: Industrial Engineering
4202 East Fowler Avenue, ENG 030
Tampa, FL 33620-9951




Tel: +1-813-974-5588
Fax: +1-813-974-5953
Email: